Author: Dr Jonathan Barnes
Passion for fly fishing often takes us to beautiful places in search of answers. I needed to know more about the development of modern nymphing techniques and just how effective they can be in the hands of an expert practitioner. This fly fishing odyssey would take me to some of the most stunning rivers I've fished whilst staying in riverside luxury accommodation eating world class food for about the average cost of a decent UK bed and breakfast. Bohemian rhapsody!
I contacted Jan by e-mail and asked if I could join him on an upcoming trip to the Vltava and Otava rivers. Jan was extremely helpful, arranged licences in advance (which can be difficult and time consuming) and picked me up from outside my Prague hotel. Jan is a giant of a man in stature (190 cm) but instantly a huge genuine smile broke across his face as he introduced himself. It was clear this was going to be no ordinary fly fishing trip.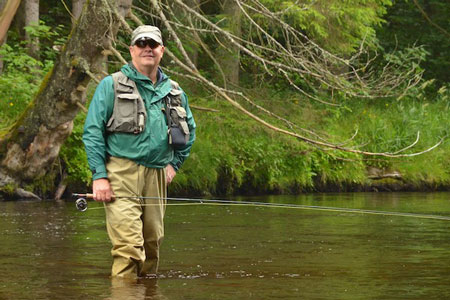 Jan Siman
Jan picked up two further fly fishers, Peter Jasek an Australian doctor and a Canadian Alan Grombacher a semi professional fly tier and we headed out to the Vltava River. Jan explained that because the Vltava was a tail water it would be less effected by the previous heavy rain that made the other rivers look like drinking chocolate. The trip to the Rozmberk on the Vltava passed quickly as we talked about various fly patterns particularly soft hackles and North country spider patterns that Alan was a specialist in tying. It was also the venue for the 2011 European Fly Fishing Championship.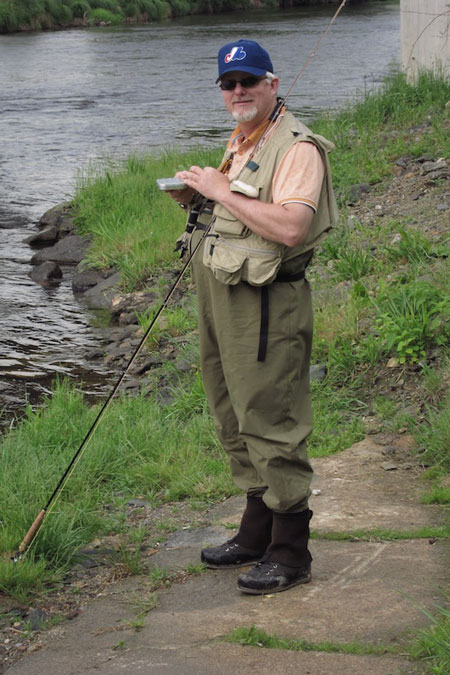 Alan Grombacher
Bohemian food is fresh, locally sourced and simply but well prepared. In my book this is food at its best. We stopped at Rybarska Basta www.bastarozmberk.cz alongside the Vltava river and ate wholesome fish soup followed by superb Zander in lemon and butter source. This was first class food at fast food prices and I was sure the quality of dining would decline after this. My assumptions were wrong as it turns out that Jan is a man with impeccable taste with knowledge of the best pensions and restaurants in the Czech Republic. One of the highlights was a real Bohemian restaurant where we ate the local duck speciality, washed down with Czech pilsner for around a 150 Czech crowns (5 pounds) each. Rybarska Basta pension is a homage to all things related to fly fishing with ancient rods and fly fishing paraphernalia scattered around.
Mr Frantisek Kurka besides being the manager and chef is an excellent fly tier who supplied flies to members of teams in the European championships. It's doubtful his patterns will be widely copied as they included oddities like eagle feathers (obtained from a contact at a Zoo), but the patterns were very interesting and effective.
http://www.youtube.com/watch?v=320AJBgfvnI
The conversation over lunch was dominated by fly fishing and despite the distractions we were all keen to get on the river.
I watched Jan keenly as he set up his nymph rig. Of particular interest was his bead or drop indicator rig which greatly improves bite detection.
http://www.youtube.com/watch?v=ZalrHPTcttA&feature=related
His nymphs included a Czech nymph pattern on the point, a bead headed tungsten fly on the middle dropper and an emerger pheasant tail pattern on the top dropper. Watching Jan fish was a humbling experience; his control was superlative and within a few casts the indicator twitched and he was playing a wild brown trout. It turned out that this was quite a difficult trick to emulate. This section of the Vltava had been used as a practice area by the 20 teams in the championship and the fish had learnt to avoid almost everything except it seemed dry flies. After a fruitless half hour on nymphs a change to dry flies brought my first trout and several more quickly followed.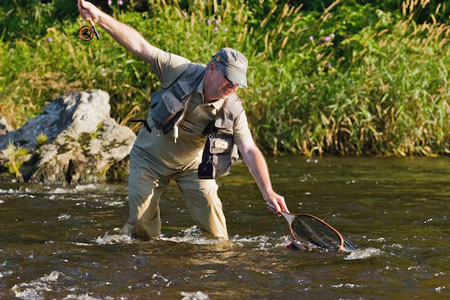 Jan playing wild trout
We continued fishing the Vltava for the next two days and became very aware of the "Plastic hatch". The only thing more popular than fly fishing it seemed was paddling down the river in a large plastic canoe. Literally hundreds of them came downstream and at times the river was just an armada of pleasure boats. Jan found the quieter areas of the Vltava for us to fish and we all caught fish but it was not easy. Alan managed a nice rainbow on his hares lug and plover, a pattern I share a fondness for and introduced Jan to in a streamside fly box conference. Alan's soft hackles were of great interest to us all. Jan's fly boxes were also admired. And my efforts (rather embarrassing in comparison) were not scorned but welcomed.
http://www.youtube.com/watch?v=busZU2CIeiw&feature=related
An Outsiders View of the 2011 European Fly Fishing Championship. On a morning walk I bumped into Paul Page (England Team manager) and the European England team members Baz Reece, David Parker and Alex Bobba. I know these fisherman and they are all superb river anglers and finished a creditable 9th place. Of course the Czechs won as expected. As an outsider with Jan I was given privileged access to the Czech team head quarters. What secret fly patterns or techniques were they using? Well,..... none at all! small weighted nymph patterns with hotspots and a coral coloured streamer for the stocked bows. They won because of local knowledge and experience. Many Czech competitive fly fisherman fish for several hours every day, both before and after work and their knowledge of their local rivers is comprehensive.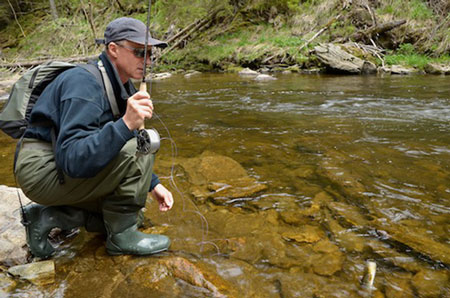 Peter Jasek
Peter watched the Competitors in the European Championship. He returned with a very interesting video of a Spanish competitor fishing upstream dry fly very aggressively in fast water using a 5 metre leader and a light fly rod, which was overloaded by the weight of fly line used. The principle behind his technique appeared to be keeping the dry fly drag free in the optimum taking zone in the current creases. The fly never appeared to be allowed to stay on the water more than a few seconds before the rod was again overloaded and the line fired out to a similar crease on the opposite side of the stream. This type of innovation shows the positive side of competition fishing and as Jan later explained was ultimately responsible for the development of what is often referred to as Czech nymphing. Onwards to the Otava- A storm brews!
With weather conditions improving, Jan was keen to head to the Otava river and away from the "plastic hatch" and crowds of the championship. We said goodbye to Alan who was attending a conference in Prague. On route Jan suggested we fish the upper Vltava which was usually boat free and beyond the reach of the competitors. It was a hot sunny day and the three of us hiked a kilometre to the stream. A small black cloud formed directly over our heads but with sunshine surrounding us none of us could have predicted what was in store. The small black cloud rapidly grew into a large grumbling black mass. We were thunderstruck before even starting to fish! Within minutes it started to rain- very hard. Moments later we were being pelted with hailstones the size of marbles- and they hurt. Our summer clothes were quickly soaked and the waders rapidly filled with water.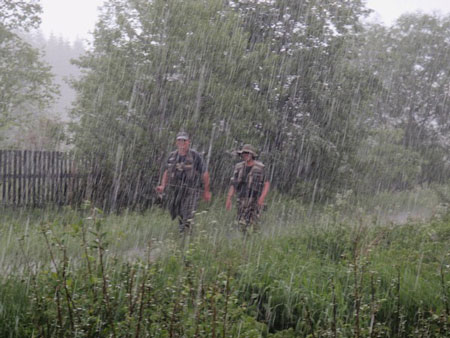 We had no choice but to beat a hasty retreat back to Soumarska Hospoda (owner Jaroslav Maxa, www.soumarska-hospoda.cz ) to dry off and change.
Eventually after drying off Jan suggested we head straight to the Otava and fish the evening caddis hatch. Words like this to a dry fly man like myself make me go slightly weak at the knees. The next few days on the Otava were blissful. On the middle reaches on the few occasions when conditions allowed Jan demonstrated his sublime nymphing skills, extracting fish after fish from each pocket.
http://www.youtube.com/user/Jonfish1357?feature=mhee#p/u/6/of2hdLXqK_8
However, even Jan would agree that the highlights were definitely the upstream dry fly fishing on the fast flowing upper reaches of the Otava.
http://www.youtube.com/user/Jonfish1357?feature=mhee#p/u/20/K54S0FrUYhM
Fish seemed to lurk behind every rock and in every crease ready to attack any surface fly. Mountain stream fishing like this is technical and exciting.
http://www.youtube.com/user/Jonfish1357?feature=mhee#p/u/28/qZd4LFLRK4U
The successful fly patterns were caddis based dries, CDC's or deer hairs. A large split wing CDC upright was also a good fast water trigger. The fish were wild, plentiful and beautiful, mainly brown trout but with the occasional brook trout and grayling. Jan admitted that upstream dry fly wasn't a widely used technique on these streams but he quickly adapted to the method when he saw how effective it could be. This is typical of Czech pragmatism.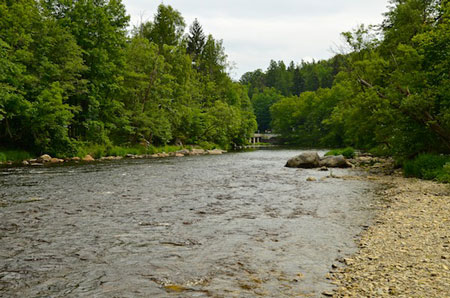 Otava river by Annin
The wonderful fishing was only interrupted by lunch stops which involved fresh hot food washed down with good but very cheap pilsner. One notable exception was a visit to Jan Tvrdek's workshop, for hand manufactured vices and landing nets of a fantastic quality. In a world where fishing products are mass produced in China this was a real eye opener. I was the proverbial boy in a sweet shop surrounded by very nice toys. I am now the proud owner of several of his products!
And the quest to find more about nymphing techniques? The respect for each other's approach to fly fishing had developed into a strong friendship and therefore this is the warts and all version and there are some jaw droppers. The Czech's basically plagiarised the short line techniques and nymphs from the Polish and Slovakians and improved them. The first "Czech"or "Polish " nymphs were sausage skinned backed nymphs but the pragmatic Czech's used vinyl gloves from a fisherman's wife's beauty salon to improve the original models. The term "Czech nymphing" was first coined by Oliver Edwards after spending time with guides on the Otava river in 1996 and is ironically unknown amongst Czech anglers who fish nymphs. Jan thinks bead heads are more effective than Czech nymphs (a point I agree with). Jan also explained that grayling nymphing has a different and distinctive style than nymphing for trout and follows the lines of the stream often under the rod tip. The Czechs are far too reasoning to believe that a spooky brown will stay close and will fish a curved path for trout at a further distance.
This approach is distilled by Jan's own simple approach on the stream. Jan was fishing a nymph rig down a likely looking bit of stream. The fishing was slow. He saw a fish rise- stopped fishing-quickly trimmed his nymphs -tied on the dry fly- and caught the fish! The original Czech / Polish nymphs were not weighted but fished in conjunction with lead shot pinched on the leader. When this was banned in competitions the Czechs were innovative and quickly added weight to the flies using first lead shot under bodies which were dressed. This was later refined to lead wire now commonplace.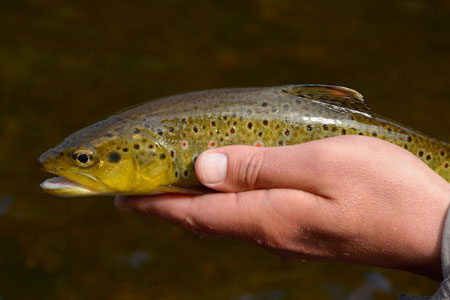 Wild brown trout
Jan shared many amusing anecdotes about a life in fly fishing. Including raiding chicken coops to remove cock hackles from live birds in Czech villages to obtain tying feathers. Additionally the glorious status of being a team fly fishing champion that left him and his team freezing and sleeping in wet neoprene waders at Dover after missing their ferry connection. The victorious Dee team were given vouchers to be used at Farlow's of London. Out of economic necessity they travelled by train and had to divert to collect their prize and that extra time cost them.
Overall the experience of fly fishing with Jan in The Czech Republic was one of the best in my life. The hospitality was first class and the company superb. I've already booked my next trip.
http://www.youtube.com/user/Jonfish1357?feature=mhee#p/u/7/z_8ul2sEzqA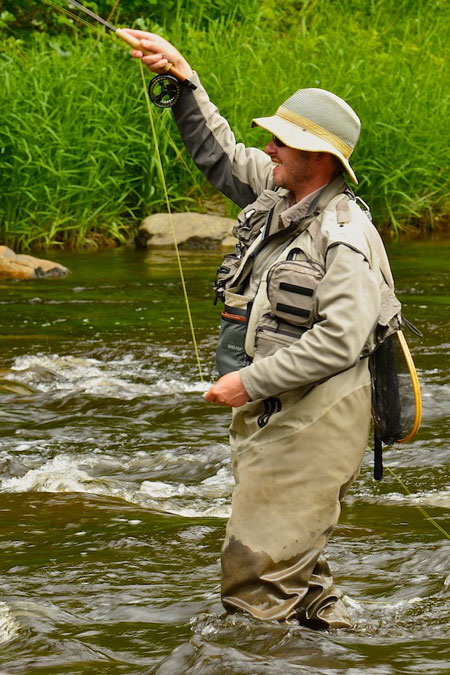 Jonathan Barnes